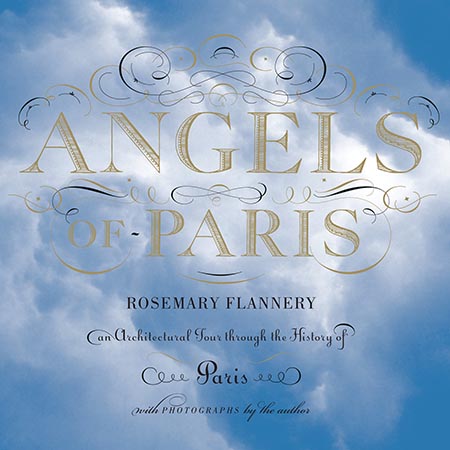 Rosemary Flannery has written an intriguing book about images of angels that we see almost every day while walking around Paris, but never stop to think about. Her book, Angels of Paris, lists dozens of sculptures and images of angels, cherubs, genies, putti…any human-looking creature, large or small, adult or infant, that has wings. Flannery has found them on door knockers, church steeples, pediments, sundials, columns, niches, grills, just about everywhere.
She classifies three types of angels:
Renommées – these are adult angels that celebrate the fame of a person or a group.
Génies – these are angels that one finds on public and private buildings, often flanking a seal or blazon.
Angels – these are messengers of God found on church doorways, steeples, and roofs.
Some angels are celebratory and some are simply decorative or symbolic. The large angel on the face of a certain apartment building in the 3rd arrondissement, for example, is a decorative element that softens the façade's oblique angle. In another part of town, two génies support a lightning rod on the roof of the Châtelet Theater. Perhaps they symbolize the benevolent protection that the heavenly host accords to theatergoers on stormy nights.
Elsewhere in Paris, angels are portrayed bearing coats of arms, or gifts, such as macarons, flowers, and fruits.
Angels of Paris contains photographs of over seventy angels, arranged by chapter. Each chapter represents an arrondissement, or district, of Paris, and within each chapter the angels are arranged in chronological order according to the date on which they were installed on their particular building. The oldest angel in Paris dates from 1146 – 1148, and the newest from 1936.
More than simply a book about angels, Angels of Paris is also about the history of the city and those who participated in its embellishment. Flannery has carefully researched the lives of the artists and sculptors who created each angel and except where no information was available, recounts each artist's role in the beautification of the city. Some readers might find her use of architectural terms deterring, but those who bear with her will find their appreciation of the architectural beauty of the city richly enhanced.
Measuring only 6¼" by 6¼", Angels of Paris is a small hardcover book that can be carried and consulted as one strolls around this enchanting city.
To learn more about Angels of Paris, follow this link: Angels of Paris – An Architectural Tour Through the History of Paris.
* * * * * * *
Like our blog? Join us on
Facebook
!
Tags: Angels of Paris, Rosemary Flannery