We often read restaurant reviews in which the reviewer states that such and such a dish "wasn't worth writing home about." Well, last Thursday we dined at Les Zazous restaurant in Paris and tasted a cheesecake that was so good that it was not only worth writing home about, but was worth writing to the mayor of New York City to tell him about it. Read our letter to him in our review and, better yet, go to Les Zazous and taste their cheesecake. Let us know if you think that this one beats the best cheesecakes in all of New York City!
To gain access to our reviews, all you need to do is to sign up at the following link: http://www.parisinsights.com/restaurants.php.
Bon appétit!
* * * * * * *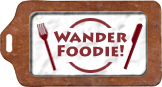 We participate in Wanderfood Wednesdays. Head over there to explore food from around the world!
* * * * * * *
Like our blog? Join us on Facebook!
Tags: cheesecake, Les Zazous, Mayor Bloomberg, New York City