I recently had the pleasure of meeting Florent Deneubourg, brewmaster of Zymotik, an artisanal brewery located in Montreuil, a suburb of Paris. After tasting his Toreo Malto, a toasted-barley beer, I knew that I would forever be a true fan of artisanal beers!
I produced the video below to help him promote his brewery. Apart from a handful of microbrewery beer pubs in Paris, Deneubourg's is the only commercial artisanal brewery in the area.
I wrote an article on artisanal beer production in France for the November issue of Paris Insights, our monthly newsletter about history, culture, and contemporary life in the City of Light. Click here to read the abstract.
Paris Insights is published monthly as a downloadable PDF file. It is available only to paid subscribers for an annual subscription fee of $30.
If you are not a paid subscriber and would like to download the newsletter, please click here. Enter promotional code 11473309154 to receive a $5 discount off the price of an annual subscription.
Bonne Lecture!
* * * * * * *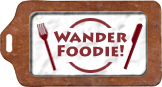 We participate in Wanderfood Wednesdays. Head over there to explore food from around the world!
Like our blog? Join us on Facebook!
Tags: artisanal beer