In mid-September France celebrated its cultural patrimony by opening buildings and gardens that are normally closed to the public. This year's theme was "Hidden Patrimony," and I profited from the occasion to visit a 600 m2 vineyard that is tucked away in the nearby town of Neuilly-Plaisance.
Getting there by public transportation was a challenge, but I was up to it: a metro ride to the Châtelet station, an RER train ride to Neuilly-Plaisance, a local bus ride to a spot several blocks from the vineyard, and then a walk uphill to the rendezvous point.
After a long wait for a group to gather, Pierre Facon, the owner of the vineyard, gave an overview of the history of wine production in Ile-de-France. He then took us along a hidden path to his vineyard where he talked about wine growing.
His presentation was extensive and quite technical. To be mercifully brief, he has operated this vineyard since 1995, where he harvests four kinds of grape: Chardonnay, Pinot Meunier, Pinot Noir, and Arbanne. He transforms these grapes into sparkling wine, called crémant. (The process of transformation is the same that is used for making champagne.) The 2010 harvest yielded about 780 bottles of bubbly.
Following his presentation in the vineyard, he took us down the road to his house, where he has installed his grape-processing equipment in his converted garage. There, he gave a presentation about how the grapes are de-stemmed, crushed, fermented, and transformed into sparkling wine. He has invested in an impressive amount of equipment, including a manual grape press, a grape crusher, a de-stemming tray, and a couple of stainless-steel vats. During the presentation he demonstrated how to use a refractometer to determine the amount of sugar in the grape juice.
Then it was time to sample the wine! In front of the garage, he donned slickers to protect his clothes from the wet froth, and then opened a bottle. There was a loud pop and an impressive spray of mousse. The wine was poured and a good time was had by all!
Thank you, Mr. Facon, for allowing us to see your hidden vineyard and for your very informative presentation!
Pierre Facon has a blog (in French) about his vineyard. Click here and scroll down to see photos of this year's joyous harvest.
Next Wednesday: our impressions of the wine from the 2010 harvest.
* * * * * * *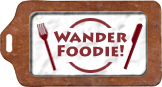 We participate in Wanderfood Wednesdays. Head over there to explore food from around the world!
* * * * * * *
Like our blog? Join us on Facebook!
Tags: crémant, Neuilly-Plaisance, Pierre Facon, sparkling wine, vineyard