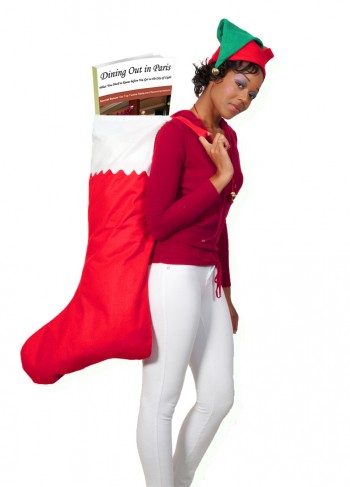 Do you have friends or family members who are planning to travel to Paris in 2015? We've got the perfect Christmas gift idea!
We wrote our new e-book, Dining Out in Paris — What You Need to Know before You Get to the City of Light, with first- and second-time travelers in mind. Because the idea of stepping into a restaurant in a foreign country to order a meal can seem daunting to neophyte travelers, we wanted to provide them with the knowledge that gives them the confidence they need to enjoy a fine meal and a wonderful dining experience in Paris.
As well as providing insider information about French dining customs, our book reviews the wide variety of shops and food markets where fine French fare is sold. And, we've included as a bonus twelve of our favorite Parisian restaurants where travelers are sure to enjoy friendly service and a fine meal.
One reviewer has called our book indispensable for visitors in search of an authentic Parisian dining experience.
Give your Paris-bound friends or family members a head start on their vacation plans this Christmas — give our e-book Dining Out in Paris!
Click here to order! http://amzn.to/1nkgCyu
We wish you Happy Holidays!
Tom Reeves and Monique Y. Wells
* * * * * * *
Like our blog? Join us on Facebook!
Tags: Christmas, Dining Out In Paris