On Saturday, March 2 I stepped aboard a boat for a fashion cruise down the central canal of Paris. Organized by Seine-Saint-Denis Tourisme the 3½-hour cruise was an opportunity to learn about the history of the textile industry along the canal as well as listen to two presentations about fabric design and watch a parade of fashions created by a young designer.
Our boat left a dock in the town of Pantin and proceeded southward along the Canal de l'Ourcq towards Paris. Along the way, architect and historian Patrick Bezzaloto gave running commentary about the industrial buildings that we passed by. For example, he pointed out the blanchisserie Elis, a company that furnishes uniforms for the hotel and restaurant industry, and the usine Lefaux that once manufactured jute bags used for packaging agricultural products.
Next, fabric designer Alice Laroche gave a demonstration of serigraph printing, a method of using a stencil to apply ink onto fabric. Some of her clients include Maison Georgette (accessories and decoration), Tout Compte Fait (children's wear), LeSportsac (handbag, luggage, and accessories), Obaïbi (infant wear), and Leroy Merlin (home improvement).
Textile designer Caroline de Tugny gave a talk about her work in creating period costumes for the cinema. She has worked for such productions as Le Pacte des Loups by Christophe Gans, Le Parfum by Jean-Jacques Annaud, and Potiche by François Ozon. She is currently working on Luc Besson's new film Malavita.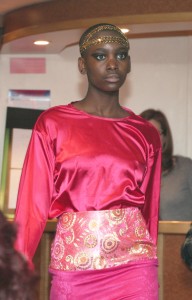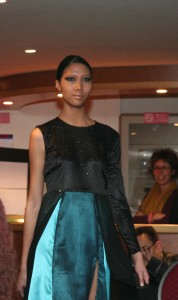 After the boat passed through the Bassin de la Villette, we entered into the Canal Saint Martin. At that point the fashion show began. Models paraded down the central isle of the boat wearing the latest designs by 19-year-old stylist Fahaid Sanober.
Of Pakistani and Moroccan origin, Sanober hails from the nearby town of La Courneuve. He became interested in fashion at the age of 14 when he saw a show on television of the fashion designs of John Galliano. He declares that he finds inspiration in strong, independent women who made an impact in history, such as Josephine Baker and Bonnie Parker.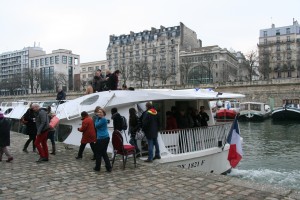 Following the fashion show, our boat docked at the Port de l'Arsenal, just south of Place de la Bastille. It was a fascinating excursion!
* * * * * * *
Like our blog? Join us on Facebook!
Tags: Alice Laroche, Canal de l'Ourcq, Canal Saint Martin, Caroline de Tugny, Fahaid Sanober, Patrick Bezzaloto, Port de l'Arsenal, Seine-Saint-Denis Tourisme