When our group of thirteen intrepid explorers from the Paris Alumnae/i Network arrived in Auvers-sur-Oise for a tour of the village and lunch at Auberge Ravoux, we initially thought that, on account of our size, we would be relegated to the annex, behind the restaurant. We were delighted to learn at the last minute that there were three tables together in the restaurant where we would be seated.
To read my review of our fabulous lunch there, as well as to gain access to ninety-nine other restaurant reviews, all you need to do is to sign up at the following link: http://www.parisinsights.com/restaurants.php.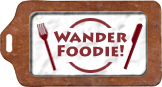 * * * * * * *
We participate in Wanderfood Wednesdays. Head over there to explore food from around the world!
Like our blog? Join us on Facebook!
Tags: Auberge Ravoux, Auvers-sur-Oise