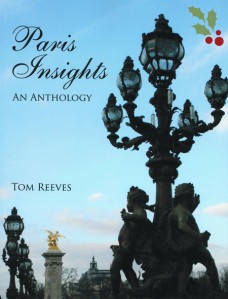 Looking for an inexpensive way to share holiday cheer?
Our book, Paris Insights – An Anthology, was created with the Francophile reader in mind. Written in a lively, personal style that is both revealing and inspiring, this collection of informative newsletters explores various aspects of history, culture, and contemporary life in the City of Light.
Published by Discover Paris!, Paris Insights – An Anthology contains 33 articles that are grouped into chapters by theme: La Vie Parisienne (Life in Paris), Americans in Paris, Tasty Treats, and Paris, Past and Present. Our article entitled "A Very Merry Paris Christmas" is the perfect way to learn about how this holiday is celebrated in the City of Light.
We offer three editions: Premium, Travelers', and Kindle.
To learn more, click here: www.ParisInsights.com.
Bonnes Fêtes de Noël!
* * * * * * *
Like our blog? Join us on Facebook!